TB Electrics Fundraising 2021
23 February 2021 @ 10:11 GMT by TB Electrics
---
Categories
---
Recent Posts
10 September 2021 @ 11:25 BST
13 August 2021 @ 11:50 BST
09 August 2021 @ 17:57 BST
---
Subscribe
Subscribe to one of our social channels and stay up to date with TB Electrics!
---
---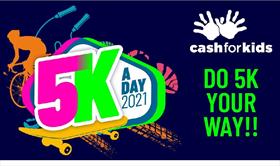 What have we got in store?
This year @TB Electrics, we are all set for two fundraising events - first off Louise is helping by walking or cycling ....she has vowed no running ...... 5k every day for the month of March to help a fabulous charity @ hits radio - cash4kids who carry out fabulous work for vulnerable children or children from disadvantaged backgrounds or those that are living with a disability or illness
They also provide a lifeline to many other charities, organisations and community groups, funding much-needed services and life-changing equipment. Grants are available now for funding if you would like to apply
So watch this space for updates and if you would like to donate, please click on the link here - we would be delighted to see our target smashed before the end of March
Looking forward to some sunshine to get out in too ...
---
---
Related Posts
No Related Posts!
---
---
Free Initial Consultation & Quotation
Providing FREE SITE SURVEYS and SYSTEM DESIGNS for suitable electrical solutions, tailored to your particular requirements.
Where appropriate, you will receive an approximation of savings that could be expected from your installation.
Contact TB Electrics TODAY!