Girls just wanna have fun !
17 December 2020 @ 13:54 GMT by TB Electrics
---
Categories
---
Recent Posts
10 September 2021 @ 11:25 BST
13 August 2021 @ 11:50 BST
09 August 2021 @ 17:57 BST
---
Subscribe
Subscribe to one of our social channels and stay up to date with TB Electrics!
---
---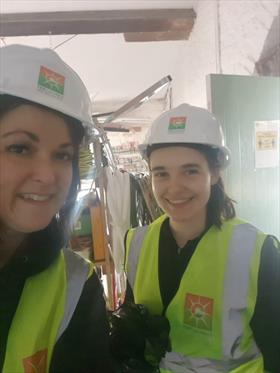 The Girls are taking over today
Meet the ladies who will be your first port of call when your ring us - Ange and Annie are here helping the site workers but normally they would be in the office for most of their time and would be there to help you when you call us
With specialisms in Electric Vehicle Charging, Solar PV, LED Lighting and general electrical work for your school, warehouse, sports centre or any work environment they can help you but if they can't help straight away they will point you in the direction of another member of the team who can
If you would like a site visit or just an inital discussion about how you can make a difference to your environment and reduce those carbon emissions - please give us a call on 01925 407273
---
---
Related Posts
No Related Posts!
---
---
Free Initial Consultation & Quotation
Providing FREE SITE SURVEYS and SYSTEM DESIGNS for suitable electrical solutions, tailored to your particular requirements.
Where appropriate, you will receive an approximation of savings that could be expected from your installation.
Contact TB Electrics TODAY!