St Lukes Hospice Becomes Greener
09 October 2020 @ 09:58 BST by TB Electrics
---
Categories
---
Recent Posts
14 September 2023 @ 13:27 BST
30 August 2023 @ 09:08 BST
21 August 2023 @ 08:18 BST
14 August 2023 @ 10:47 BST
10 August 2023 @ 10:17 BST
---
Subscribe
Subscribe to one of our social channels and stay up to date with TB Electrics!
---
---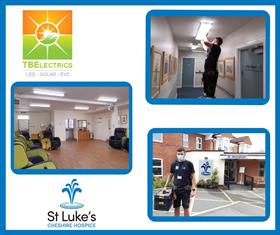 St Lukes Hospice are Making Even More Difference
We were delighted to carry out work for St Lukes Hospice in Cheshire to help them to save money on their energy bills by changing over all their existing lighting to energy efficient LED Lighting.
Not only do the team there offer a fabulous care and service for their patients - they do their very best to keep the mood light and people safe and comfortable
We were so proud of our team at TB Electrics for the comments they received whilst working there and St Lukes have saved 3 tonnes of CO2 per year and cost savings of @£4000 per year as well - adding helping the planet to their list of
---
---
Related Posts
No Related Posts!
---
---
Free Initial Consultation & Quotation
Providing FREE SITE SURVEYS and SYSTEM DESIGNS for suitable electrical solutions, tailored to your particular requirements.
Where appropriate, you will receive an approximation of savings that could be expected from your installation.
Contact TB Electrics TODAY!