13 August 2021 @ 11:50 BST by TB Electrics
---
Categories
---
Recent Posts
14 September 2023 @ 13:27 BST
30 August 2023 @ 09:08 BST
21 August 2023 @ 08:18 BST
14 August 2023 @ 10:47 BST
10 August 2023 @ 10:17 BST
---
Subscribe
Subscribe to one of our social channels and stay up to date with TB Electrics!
---
---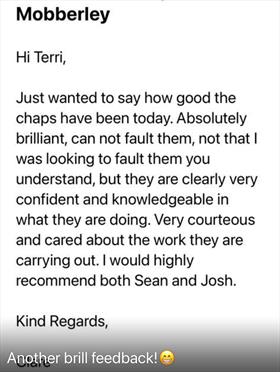 We love feedback
So yesterday Sean and Josh installed a new consumer unit and carried out a full test and inspection at this customers property.
They also fitted fitted floodlights outside and lights inside
We are very proud of the way TB Electrics are perceived in customers homes and you can why right here - Well done boys, for that we will give you the weekend off .......
Oh no sorry, not this weekend, you are working ......... I bet we get another great review though !!
---
---
Related Posts
No Related Posts!
---
---
Free Initial Consultation & Quotation
Providing FREE SITE SURVEYS and SYSTEM DESIGNS for suitable electrical solutions, tailored to your particular requirements.
Where appropriate, you will receive an approximation of savings that could be expected from your installation.
Contact TB Electrics TODAY!