BATTERY ISSUES - WHAT CAN YOU DO ?
15 December 2022 @ 11:39 GMT by TB Electrics
---
Categories
---
Recent Posts
20 April 2023 @ 11:24 BST
27 March 2023 @ 19:19 BST
23 March 2023 @ 11:48 GMT
13 February 2023 @ 10:42 GMT
15 December 2022 @ 11:39 GMT
---
Subscribe
Subscribe to one of our social channels and stay up to date with TB Electrics!
---
---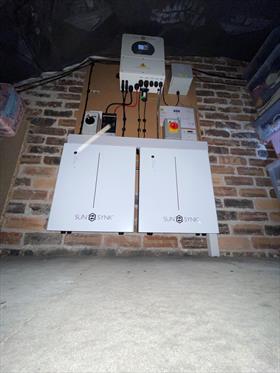 BATTERY ISSUES - WHAT CAN YOU DO ?
So this cold weather has taken us a little by surprise and I expect that some of you are finding that your home storage batteries are not operating as they usually do, they are either not charging or discharging or even doing some crazy things.
Batteries need a little looking after and a lot of the beeping you may be hearing is them telling you they are too cold....
The fact is that most of them don't like to operate below 0 degrees - but what can you do to help?
1. Warm the room/area that they are in if possible - up to an ambient temperature - but don't directly point the heat at the battery - maybe install an infrared or greenhouse style heater to keep the electricity consumption down
2. Set the state of charge levels to around 20/25% to help keep them above the minimum charge level -some batteries may discharge in lower temperatures but struggle to charge - so you need to tell them what to do
3. Wait -  Some batteries may need you to wait for the temperature to warm up above 10 degrees to come out of the alarm state
4. Build an insulated enclosure, but be mindful of the ventilation and proximity requirements of your kit, more a  kind of 'plant room' for your equipment to keep it nice and cosy
The weather we are having is unusual for the UK,  -10 is lower than we normally see and your equipment is protesting, however it is just a blip and we will be back to more normal temperatures soon - you have invested in a great, green product that will last for many years to come, so please just be patient over these next few days 
---
---
Related Posts
No Related Posts!
---
---
Free Initial Consultation & Quotation
Providing FREE SITE SURVEYS and SYSTEM DESIGNS for suitable electrical solutions, tailored to your particular requirements.
Where appropriate, you will receive an approximation of savings that could be expected from your installation.
Contact TB Electrics TODAY!