Industrial LED Lighting Systems & Services
We will design, supply & install energy efficient lighting systems for large industrial buildings across the UK including factories, warehouses, workshops and garages.
  We deliver bespoke lighting system installations across England & Wales.
  Our FREE industrial lighting surveys show the possible savings to be made.
  Our lighting systems include state-of-the-art LED systems.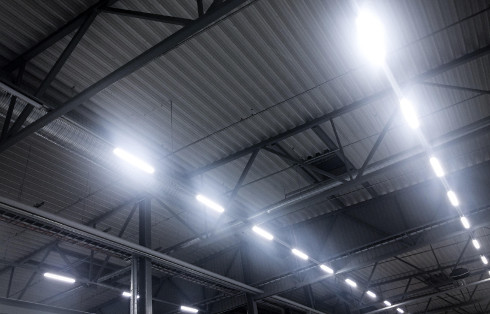 Benefits of Industrial LED Lighting Systems
The operators of large commercial and industrial buildings such as factories & warehouses can make significant savings through the installation of LED (Light Emitting Diode) lighting to replace outdated high bay, low bay and panel light fittings.
Our specialist Industrial LED light systems comprise high efficiency lamps and fixtures (combined with relevant control systems) and are designed so we can replace older sodium/metal halide HID (or fluorescent tube) fittings on a one-for-one basis or bespoke, dependent upon your requirements.
As a direct result of installing LED lighting system you will immediately see an improvement on:
Financial Overheads
On-site Energy Consumption
Corporate Carbon Footprint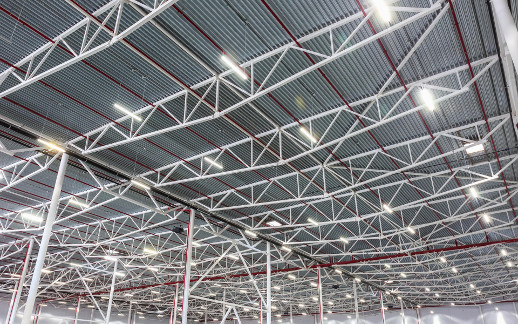 Why Install LED Lighting?
According to the Carbon Trust, commercial and industrial lighting consumes an estimated 20% of UK electricity generation. In most businesses, lighting can account for up to 40% of total electricity costs - this is especially the case in a large storage building such as a warehouse.
There are three distinct reasons to justify the investment in the installation of new LED lighting systems:
The financial case for industrial LED lighting systems
The operational case for industrial LED lighting systems
The environmental case for industrial LED lighting systems
The Financial Case for LED Lighting in Factories & Warehouses
The savings made through new energy efficient commercial LED lighting system can represent the single biggest cut a business can make to on-site electricity expenditure. All savings contribute directly to net profit.
Energy saving commercial LED lighting provides a guaranteed financial return with profits expected within 36 months typically - including installation.
Energy efficient LED lighting can be installed with no capital outlay, only being repaid as monthly instalments as equivalent or exceeding savings are generated by the new lighting system.
Enhanced Capital Allowance tax relief (writing off 100% of the capital cost against tax in the first year) allows faster return-on-investment for an industrial LED installation.
Some indirect financial benefits include:
Reduced lighting system maintenance costs (the costs of day-to day commercial lighting maintenance services on an older system can be significant e.g. cost of replacement lamps, the hiring of expensive lifting equipment and contractors).
The cost of heating/cooling loads in a commercial or industrial building (e.g. air conditioning, environmental systems) can be significantly lowered through an LED lighting installation.
A well designed lighting installation can improve staff productivity within the business as a result of improved working conditions and lighting levels.
Less risk of corporate financial penalties due to accidents or non-compliance with regulations/directives this is where a wise investment in a commercial or industrial lighting set-up can really pay off.
The Operational Case for LED Lighting in Factories & Warehouses
Improved staff productivity through more comfortable working environments when areas are lit brightly enough and/or given a more suitable "quality" of light (close to daylight) for the type of work being undertaken in the location.
The disruption of maintaining a commercial/industrial lighting system can be reduced significantly - new lighting technologies can operate for many years between necessary lamp changes.
New LED commercial or industrial lighting can protect a business against liability from existing health and safety issues and bring a site up to scratch by adopting best practices such as:

Ensuring that CIBSE lighting lux levels guidelines are met
Eliminating dim lighting in dangerous working areas
Addressing issues with hazards caused by lighting such as lowering glare experienced by forklift vehicle operators etc

A contractor offering a package of industrial lighting services can identify the risks associated with older, unsafe lighting wiring & circuits etc.
Using a financial scheme for an LED lighting installation allows capital equipment (CAPEX) or maintenance budgets to be reserved for other on-site services and repairs and you may even still save money on a monthly basis.
Other benefits of new industrial LED lighting systems include:
The ability to get achieve instant full light levels (no warm-up or re-strike time after e.g. a power outage)
Some lamps (for older fixtures) are difficult to source due to the ceasing of their manufacture (an example being 8 foot T12 fluorescent tubes) the upgrading of light fittings to LED eliminates these associated risks.
The Environmental Case for LED Lighting in Factories & Warehouses
Being part of a clear Corporate Social Responsibility (CSR) initiative and a carbon reduction strategy to supply chains and customers.
A newly installed LED commercial lighting system provides a very "visual" demonstration of a sustainability/carbon reduction project an investment made in energy efficient lighting provides a very strong message to customers & supply chains who increasingly need to see businesses taking climate change seriously.
New energy efficient LED light technologies require much less frequent lamp replacement. This makes it easier for a business to ensure compliance with ever tighter environmental regulations [e.g. the waste electrical and electronic equipment recycling (WEEE) initiative] requiring specialist hazardous material disposal for expired lamps etc.)
Budgets can be ring-fenced for other carbon reducing projects within the business, eliminating what is usually the biggest barrier for capital investment projects.
Benefits of LED Lighting for Your Job Role?
Certain job roles within businesses will have individual interests in ensuring that the installation of an energy efficient LED lighting system in a warehouse or factory can help to achieve their personal business targets - such stakeholders include:
Site/Facility Managers
Financial/general managers
Energy, Environment or Carbon Managers
Electrical Engineers or Contractors
The key benefits that energy efficient LED lighting can provide to each of these roles are outlined below...
Benefits for Site/Facility Managers
Site and facility managers are aware of excessive energy consumption & reliability problems caused by outdated lighting equipment. Replacing old commercial & industrial lighting (e.g. 400W sodium/metal halide high bay and low bay fixtures) with the latest energy saving LED solutions is a very effective way to:
Improve on-site working conditions for staff through improved lux levels and light distribution.
Ensure compliance with business environmental regulations & achieve certification standards (e.g. ISO 14001).
Benefits for Financial/General Managers
Financial or general managers will be aware of the large contribution that industrial lighting bills make to overheads (up to 80% of electricity costs in some cases). New energy efficient lighting system installations will help to:
Increase business profitability (the bottom line)
Improve corporate sustainability credentials
Improve staff performance/efficiency and reduce on-site risks
Benefits for Energy, Environmental or Carbon Managers
Industrial environmental/energy or carbon managers are aware of the challenges of securing investment & support for sustainable or energy efficiency projects. A new energy saving lighting installation will:
Deliver guaranteed significant energy, carbon & financial savings with complete payback in under 3 years.
Kick-start a wider carbon reduction plan as part of a larger business energy efficiency initiative or environmental strategy.
Become part of a sustainable business supply chain.
Help to meet business customer/supply chain sustainability demands.
The installation of new energy efficient lighting provides a very "visual" demonstration of a commercial carbon reduction project.
Benefits for Electrical Engineers/Contractors
Industrial or commercial electrical contractors will be aware of ever increasing demands to meet energy & carbon reduction targets from the specification & installation of new on-site equipment. A new LED commercial lighting system can:
Reduce the expensive cost of hire lifting or access equipment (cherry picker, scissor lift etc) for lamp changes.
Reduce the risks of blown circuits/shattering lamps/overheating (common with HID lighting systems).
Provide an easy way to lower the existing electrical load on the lighting circuits.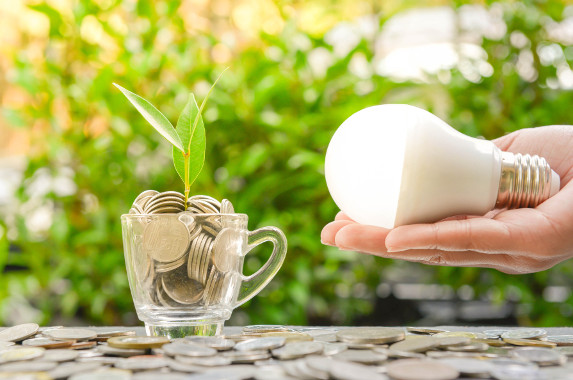 Capital Financing Solutions
We can point you in the right direction for financing solutions to help companies avoid the initial capital expenditure. If required and subject to approval, our packages provide savings and revenue from the day the system is commissioned, with minimal installation down-time allowing you to get on with your business.
Various financing options are available - contact us to discuss your requirements.
Contact us now to arrange your FREE lighting survey, and see what difference it will make to YOUR business!
Free Initial Consultation & Quotation
Providing FREE SITE SURVEYS and SYSTEM DESIGNS for suitable LED Lighting solutions, tailored to your particular requirements.
Where appropriate, you will receive an approximation of savings that you could expect to achieve from your installation.
Contact THE TBE-LED TEAM TODAY!